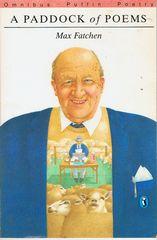 I went rummaging through my poet's suitcase and found a gem of a poem from the late Australian poet, Max Fatchen. Max was born on the Adelaide plains in South Australia in 1920. and grew up on a farm among hayfields and huge Clydesdale horses, which he drove in a plough that made quite crooked furrows (Max's assessment). Max died in 2012.
Max later became a journalist working on Adelaide newspapers and worked throughout Australia and overseas. He most enjoyed writing stories about people.
Four decades of writing for children, especially those of primary school age, began in 1966 with 'The River Kings.' He wrote 20 books; his novels appear in seven countries and his poetry throughout the English-speaking world. As well as novels he
a collection of short stories and several books of verse for young readers.
His verse is frequently included in anthologies. Max had a wry sense of humour and this comes through in a lot of his writing. Since then it has been reprinted numerous times.
His children's poems remain popular.
I have been a keen collector of his poetry over many years. I am a fan of Fatchen!
The poem I have chosen to share with you today is titled 'Silhouettes' and was part of his children's poetry anthology 'A Paddock of Poems' first published by Omnibus Books in 1987.
Silhouettes
I saw a swan in the evening glide
And then another by its side
Then came a line, a feathered fleet
They sailed when moon and water meet
As, one by one and bird by bird,
The glinting waves they gently stirred.
Across the lake their course they set,
Necks curving in a silhouette
Until I could not hear at all,
The drifting music of their call.
But when it came my time to sleep
I counted swans instead of sheep.
Max Fatchen